Transair offers the largest range of diameters from 16.5 mm to 168 mm
Karachi, 18th March, 2015 –
AirPro
and
Parker Transair
will display it latest and most advanced air pipe system at
14th International Textile & Garment Machinery Show, Textile Asia 2015
. AirPro will be participating at Textile Asia 2015 to show case Transair's innovative and diversified compressed air pipe work systems.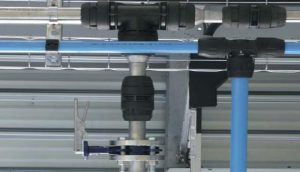 AirPro offers a wide range of services to its customers, partnered with Transair, Division of Parker Legris, specializing in compressed air pipe-work systems for new projects, renovation, extension or modification of existing systems and for point-of-use connection.
Services include Design & Supply of Complete Compressed Air Installations, Compressor Station Design & Consultation, Piping Layout Design & Construction, Turnkey Installations and Monitoring Service
Because users need versatile but reliable and safe solutions, Transair® has developed different technologies for the best compromise between safety, efficiency and adaptability.
Gripping ring instant connection for diameters 16.5, 25 and 40 mm offers the maximum flexibility.
Snap Ring quick-fit connection for diameters 50 and 63 mm proposes the most secure technology while maintaining ease of handling: no possible errors during installation.
Lug & Clamp quick-fit connection for diameters 76, 100 and 168 mm avoids any disconnection: the internal cartridge works as a fuse if a failure in the network causes an excessive pressure increase.
Transair®, the original modular pipe work system based on aluminum pipes and quick connectors, was launched in 1996. Since then, with almost 20 years experience, continual improvements have been made to meet the compressed air, inert gases and vacuum network needs!
Parker products will be displayed at stand no. 182, hall 4 at Expo Center, Karachi, Pakistan from 28 – 30 March, 2015.