FORD CHOOSES TRANSAIR FOR MAJOR NEW COMPRESSED AIR PIPEWORK SYSTEM
Ford have selected Legris' Transair rapid-fit pipe work system for the vital task of conveying compressed air to the 3000 machining operations on its latest engine production line at Dagenham in Essex.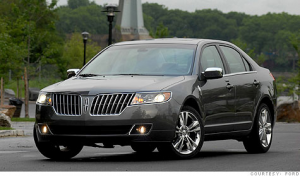 The Dagenham plant is Ford's sole diesel engine manufacturing facility in Europe and produces engines for vehicles ranging from Transit vans to luxury S-type Jaguars. Compressed air is fundamental to the entire process, clamping tools and transferring a rough casting through a myriad of automated drilling, machining and clean area operations until it emerges as a finished engine. The company's newest production facility is the result of a £350m investment which will provide a production capacity of 575,000 1.4 L and 1.6 L engines.
Ford selection criteria – cost
savings and reduced installation time
With a requirement to supply compressed air across the whole of the 33,000 sq meter  production area, Ford's three criteria for a pipe work system were for greater operating efficiency than on previous lines, maximum cost saving and fastest installation times.
Conventional galvanized steel had been used on the company's other production lines but was ruled out because of the length of time required to install and make modifications when needed.
Based on previous experience, plastic too was dismissed because of the expense of so many supports and the need for frequent replacement through cracking. Even rubber hose was considered, but quickly ruled out on the basis of the number of supports required and – despite being in a production environment – its lack of aesthetic appeal.
TRANSAIR, the most practical and rapid system
Ford had previously had experience of Legris' Transair pipe work system used for compressed air on the transfer machines supplied by Lamb Technicon to its Lion V6 engine machining production line. The rapid-fit system is used as standard by Lamb Technicon as the fastest and most convenient way for the company to run up and test a complete engine production plant at its own premises, then break it down, ship to anywhere in the world and reassemble it at point of use.
Based on that experience, and as part of its policy of "simultaneous engineering", Ford worked in partnership with Legris' Transair distributor Airchannel and the main mechanical installation contractors JSMS of Erith, Kent, to develop a system for delivering compressed air to the new line. Just nine months were allowed to remove the previous engine production facilities in the area, completely refurbish that part of the building and install the new diesel production facilities.
The result has been a 200mm galvanized steel ring main and sub ring main in ladder format, dropping entirely to Transair in lightweight aluminum with its "instant" connection technology. Because of the range of sizes available, the Transair installation could be tailored precisely to the needs of each installation, with 40mm pipe work used as a header across banks of machines, dropping to 25mm and 16.5mm diameter according to the flow requirement.
Installation time reduced to 72 hours
Transair's rapid-fit technology was to prove itself as much to the 30-strong pipe work installation team as it was to Ford. Well used to working with galvanized steel at the plant, where the time from initial request to installation was up to eight days, installation times were now reduced to 72 hours, and with modifications now made in a fraction of the time previously needed. Legris was able to supply all sizes of Transair pipe work in six meter lengths instead of the usual three meters, substantially reducing the need for couplings. Legris was also able to supply the Transair aluminum pipe work in white powder coated finish instead of its standard blue, for use in the clean room standard final engine assembly building.
In addition to its far higher energy efficiency in use, the lightweight nature of Transair was also to provide a further instantly recognizable saving over galvanized steel at Ford. One-inch diameter service drops in galvanized steel used on its Lion engine production line had been taken to the floor and anchored for rigidity, although the supply to each machine was typically at around one meter off the ground. Because 16.5mm Transair offered the same flow characteristics but without the weight, it could be terminated simply on a wall bracket connected at the appropriate level to each machine. Based on the 550 service drops, the saving over galvanized steel in labor and materials for this part of the project alone was significant A further benefit develop during the SE partnership with Transair, both aesthetically and financially, has been the ability to form the pipe work into position from the 40mm headers to individual machines, eliminating the need for numerous additional elbows and reducing costs for components and further installation time.